This pugnacious little sports car will flit in and out of traffic, slide into corners, and fit into parking spots like a champ.
I would like to thank the folks over at Mini (or BMW) for continuing to build a car that, by all modern trends, should no longer exist. I got to drive such a car for a week recently and haven't enjoyed any test vehicles more in the last couple of years.
As we cruise into 2022, rear-wheel-drive cars are fading from use in favor of front-wheel or AWD machines. With a few exceptions, small performance rides like roadsters and sporty coupes exist mainly in museums and classic auto shows.
Manual transmission cars with a proper hand brake moved less into the realm of tuning shops and bespoke vehicle builders. ALL of the above are being replaced by technology that makes driving simpler and more economical.
That cutting-edge tech also makes operating a vehicle more boring as great drivers' cars embrace all of the above-endangered features. You can't properly drift, slide or rotate a front-wheel-drive machine, and all-wheel drive makes it outright impossible. For lovers of stick shift travel, managing an automatic transmission car feels more like merely steering than actual driving.
Losing more primitive mechanisms from cars makes driving easier, but less sensual and engaging. Fortunately, anyone with about $35,000 or so can buy a brand new car right now that keeps all of those devoted driver elements alive with a whisper of British culture and a reassuring grunt of German engineering.
Burying the lede no longer, the 2022 Mini Cooper S Convertible is a wonderful drivers' car. Well-built, perfectly balanced, nimble, and quick, the Cooper S employs a twin-turbo, 2.0-liter inline four-cylinder capable of 189 horsepower and a zero-to-60 mph speed of just under seven seconds.
You might insist that sounds slow for a car that claims to be fun to drive, but a Mini is supposed to be spritely, not muscled. That power plant is ample to get the Cooper S dancing, and I had it flitting in and out of traffic, sliding into corners, corkscrewing in and out of parking spaces, and exploring the usefulness of the full-on Rockford Turn. I simply hated to give this thing back to the fleet service.
Mini people (not elves or pixies, but the designers, engineers, and media relations folks working for Mini out in Munich) insist this is a car all set to transport four happy adults.
Ironically, that would really only be possible if two of the four were indeed adult elves or pixies because the back seat of the Cooper is big enough for a ventriloquist doll and a 1970s G.I. Joe with Kung Fu Grip.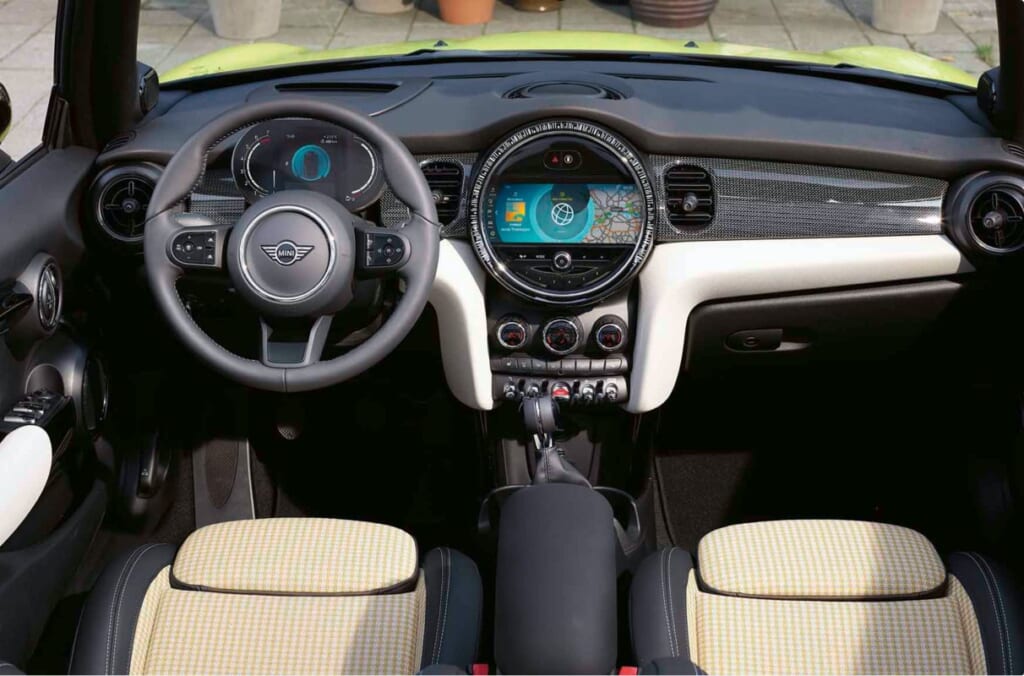 In its heart and mind, the Mini Cooper S is a two-seater, and there's no shame in that. In fact, in some jurisdictions, having that back seat qualifies the owner for a break on car insurance rates as it dodges performance car price gouging inflicted upon two-seat rides like the zippy Mazda MX-5.
There's a trunk of sorts, and it'll take a few sacks of groceries or a big gym bag. Still, no one is picking up a Mini Cooper S to transport cargo. It's a car that exists to get you around an urban setting with maximum joy and visceral precision.
The only snag is, all loaded up with available bangs and whistles, the 2022 Mini Cooper S Convertible will run you north of $40,000. That feels like a lot of money to pay for a little, pugnacious daily drive with an attitude. Still, it's hard to put a price on the fun this impractical little rebel offers.
I only hope that Mini keeps putting out these little anachronistic beauties while the rest of the automotive world marches relentlessly into the realm of dullards.