Experience La Dolce Vita at the coolest hotels in Milan and Sicily.
When Europe first began to relax its travel restrictions, Italy was one of the first places we arranged to visit. Though there's never any shortage of excellent reasons to go there, that we were able to do so before the full crush of international tourists returned was at least some of the appeal; as well as a crop of new and recently reopened luxury hotels that are ushering in a new chapter in stylish hospitality.
We began our journey in Milan, at one of the newest and coolest luxury accommodations in the fabled and fashionable city: Duomo Luxury Apartments by Rosa Grand Milano, at the famed hotel of that name—part of the prestigious Starhotels Collezione—which occupies one of the best locations in all of Milan. Standing in the "true heart of the city," it overlooks the historic Piazza Fontana and is immediately behind the iconic Duomo cathedral, emblem of Milan
Starhotels Collezione, a privately owned luxury Italian hospitality brand, opened the Duomo Luxury Apartments in late 2021 to enhance Rosa Grand Milano's already considerable appeal. The 24 apartments, including four spectacular penthouses, overlook the spires of the Duomo, from which they take their name.  Housed in a building adjoining the Rosa Grand Milano hotel, the luxury one- and two-bedroom residences are now available to discerning travelers for either short or long-term stays.
"Exuding Milanese metropolitan chic, the intimate and elegant Duomo Luxury Apartments provide guests with a unique opportunity to experience the city in a different way," as the hotel puts it, with guests able to experience residing in a private apartment that benefits from all the services of a luxurious grand hotel. Designed by Milanese architect Andrea Auletta, each apartment is distinctively furnished in suitably chic style, and all feature tons of natural light, decadent baths, modern kitchens, large living areas with oak parquet flooring, and spacious terraces "bringing the beauty and history of the city within touching distance."
The four penthouses are crowned by the Penthouse Duplex Duomo View.  The 1,600-sq.-ft. the apartment is spread across two floors, connected by an artfully-designed staircase and a private elevator, and features large living areas, two bedrooms, two kitchens, and two baths. Floor-to-ceiling windows "fill the space with the shifting light at different times of the day," while the 1,075-sq.-ft. the furnished terrace boasts panoramic views of the Duomo, making for a truly magical stay.
Residents of the Duomo Luxury Apartments have access to all the main hotel's facilities, including the wellness area, bar, restaurants, room service, and housekeeping. They also have a dedicated Guest Relations Manager, who can arrange restaurant reservations, tours, and private cars, as well as a private chef for dinners in their apartment or intimate cocktail parties overlooking the Duomo. And the Apartments are accessed via an exclusive Golden Lounge, where residents can gather to sample an ever-changing array of snacks and drinks or consult with the dedicated concierge staff.
The acclaimed hotels in the Starhotels Collezione are city icons in the heart of the best global destinations that "stand out for their stunning locations, refined, elegant interiors, and flawless, tailor-made service." Blending beautiful architecture and design with a strong heritage and distinct personality, in addition to Milan the renowned hotels in the collection are located in London, Paris, Rome, Florence, Venice, Siena, Trieste, Saturnia, and Vicenza.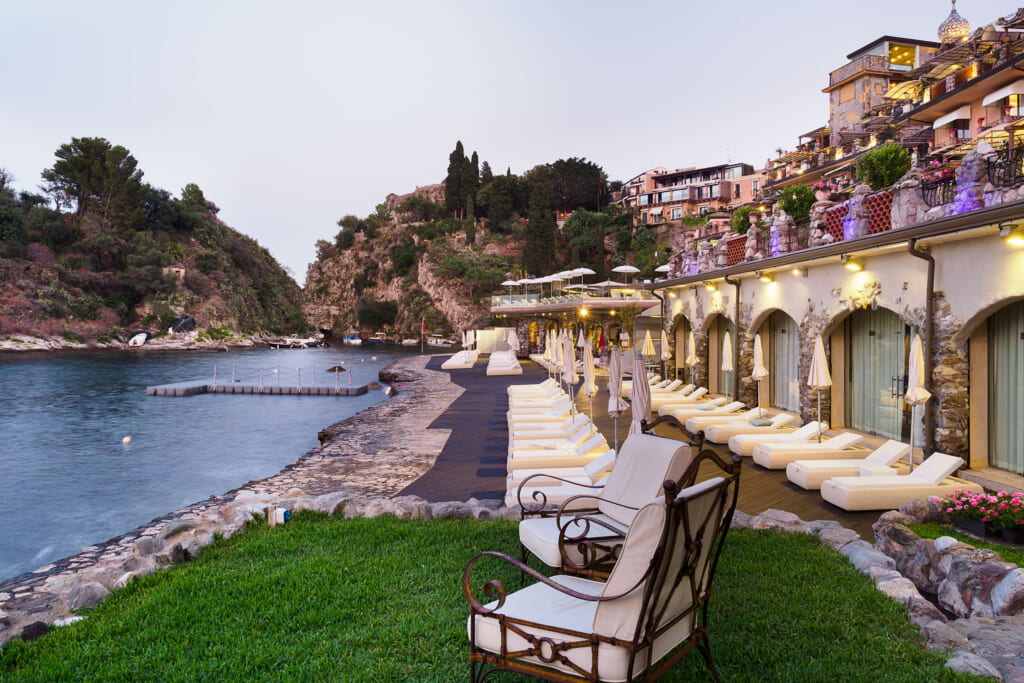 From Milan, we ventured on to Venice and a visit to Ca' di Dio, the city's coolest new luxury hotel. And from there we headed to Taormina, Sicily, one of the most legendary resort towns in all of Italy. There VRetreats , the curated luxury hotel portfolio that Ca' di Dio belongs to, owns two of Italy's most celebrated seaside hotels: Mazzaro Sea Palace and Atlantis Bay. Located next to each other on an idyllic stretch of coastline, they are five-star bastions of elegance and luxury hospitality.
Mazzaro Sea Palace is justly famous for its enchanting private beach on the Mediterranean Sea, as well as its proximity to the town of Taormina, located on the hillside above. The history of Taormina dates back to Ancient Greece, and it has always attracted royalty, aristocracy, celebrities, and jet setters. Like its legendary locale, Mazzaro Sea Palace lies "at the crossroads of art, culture, and natural beauty."
It's tempting to spend the whole time perched on the hotel's beach or its picture-perfect terraces, but it's also the ideal place from which to explore the coast of Sicily, known for its unspoiled nature and alluring culinary and wine traditions. And ascending to Taormina is as easy as taking a short stroll to the funicular station just down the street from the hotel; no car is needed.
The Mazzaro Sea Palace has 76 rooms and suites, and each offers a unique view of the Mediterranean via large windows and private terraces. The decor is a "harmonious mix of marine-inspired colors, red shades of Sicilian marble, and gold sandy tones," that evoke the seaside setting. The exclusive Pool Suites are the highest-end accommodations, with heated plunge pools and whirlpools on their private terraces.
The Mediterranean also serves as the backdrop for the hotel's popular Gattopardo Restaurant. The same holds true of the Tancredi Bar lounge area, and both open on to multi-level panoramic terraces with postcard-worthy vistas. This is the spot for lunch al fresco, or an aperitif before dinner, moments which are rendered cinematic due to the unparalleled beauty of the setting. It's easy to imagine you in a classic Italian film; something by Fellini, perhaps.
The private beach is reserved exclusively for hotel guests, and there's also a scenic swimming pool and a large solarium for soaking up the Sicilian sunshine. Many guests also choose to indulge in spa treatments to further enhance the health benefits of the sea air and the abundant supply of vitamin D; you can leave your supplements at home.
A short distance along the road is Mazzaro Sea Palace's sister property, Atlantis Bay. Offering a more contemporary experience, it nonetheless incorporates the rich history of Taormina as well. The architectural style is a mix of modernity and an ancient Sicilian fishing village, with an abundance of natural stone. Large terraces and plate glass windows offer spectacular views of Mermaids Bay and the Mediterranean.
Atlantis Bay also has 76 rooms and suites, united by their stunning views of the sea, and a distinctly maritime theme. Refined and relaxing, with soft, colors and neutral palettes, they are designed to be reflections of the water and golden light that bathe the hotel and its setting, making for a truly rejuvenating and restful experience.
Fine food and wine are of course a priority at Atlantis Bay as well. Breakfast, lunch, and dinner are all served overlooking the sea, whether at the main restaurant or the beach bar. Artisanal cocktails are also a feature of the Dioniso Bar, and it's customary to have an aperitif there before adjourning to Ippocampo Restaurant, for a modern interpretation of classic Mediterranean cuisine.
The swimming pool with its views of the bay is also an extremely romantic setting. It's also popular for posh private events. On the night we dined at Atlantis Bay, Lamborghini had taken over part of the terrace and restaurant for an affair showcasing its ultra-luxe Urus SUV. The event began with a poolside cocktail party before moving to a private glass-enclosed dining area.
A Lamborghini is of course the perfect way to arrive at these gorgeous luxury escapes. Before that point of course you need to arrange a flight to Italy. And VRetreats' parent company Alpitour, a major player in Italy's tourism industry, is now helping you do that in style as well, thanks to the new JFK-Milan service on its Neos airline. News aims to offer an affordable option for traveling to Italy in comfort and style with its well-priced Premium Class, for those who don't want the near-five-figure expense of traditional international business class tickets.
The company carries out its own maintenance on its well-equipped fleet of Boeing 787 Dreamliners, known for their oversized windows, at Milan-Malpensa Airport, unlike many airlines who outsource their upkeep to dubious facilities overseas. It also delivers its service and even inflight drinks and meals with distinctly Italian flair, and standards; they'd never even think of serving sub-par food and wine—or giving you clammy, unidentifiable "food" items wrapped in plastic, which would be a national disgrace.
And as Neos is now taking the place of Alitalia, Italy's national airline which ceased operations on in October 2021, they take these things seriously. When traveling to Italy direct, with money left over for all that great food and wine, it's the only way to fly.